Layout : Van Conversion Interior
Layout of the sleeping area is a bit clever.
Before you go barking at this design like it's just shat on your lawn please bare with me.
The view below is looking from sliding side door to the rear of the Mercedes sprinter.  This layout section encompasses only the sleeping areas.  It fulfils the requirements to comfortably offer  space for a family of 4 to cohabit and not rip each others throats out.
The clever bit of design is an old boat bunk construction technique. Here's an example used in a Monte Carlo Gin Palace. The beds are only full height from the waist up and your legs slide into a space only as high as your hips are wide. Importantly this enables you to sleep on your side or roll over without getting wedged or tearing your kneecaps off.
Using this space saving technique  3 tiers of sleeping can be cunningly shoe-horned into the available area.
This means that the kids each get a fixed, private bunk in which they can hide / sulk / spew to their little hearts content. Of course this also means that when it all gets too much  the grown ups can  stuff their kids into a small hole and social services haven't got a leg to stand on.
As for the layout of the double bed its designed so adults can sit up under the top bunk and use the top step as a place to stick a soul-sucking laptop device for watching Frozen should you run out of bullets.
The kids top bunk is accessed by the power of magic. We've not worked that out yet – maybe some rock-climbing handholds or a ladder arrangement. Failing that just pick 'em up and chuck 'em in.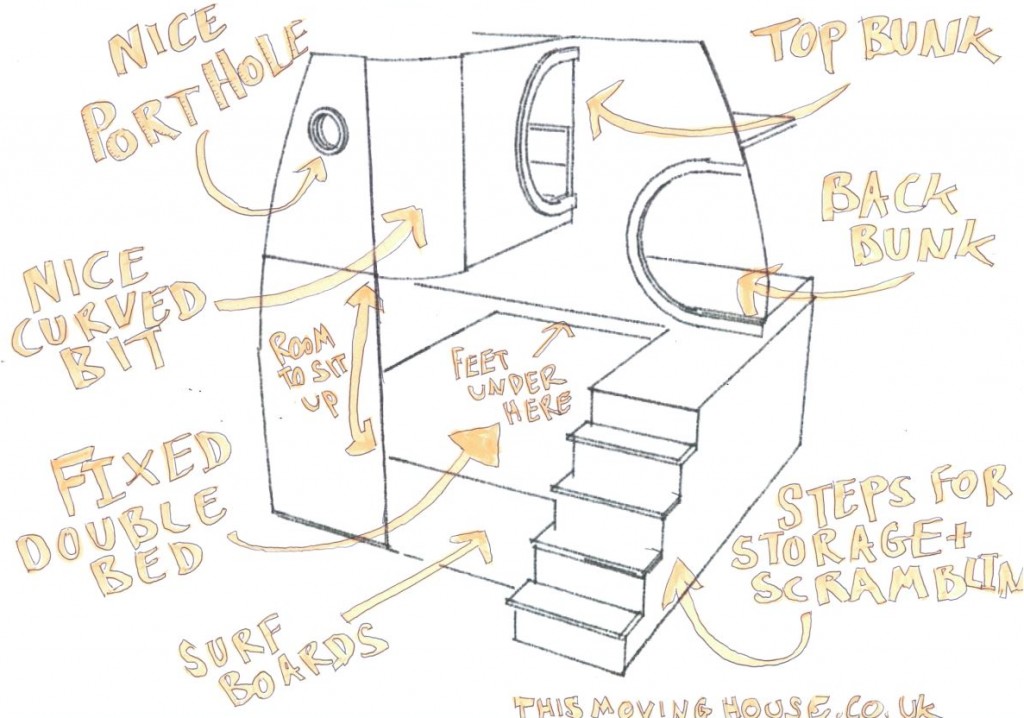 Van Conversion Interior Layout :Rear
The rear view shows a bit more detail as to how the "feet stacking" layout works and also shows the ample storage space for surfboards which live under the fixed bed.
At the top of the storage area is a space designed for stashing a particularly large, and very useful buggy. This won't be needed forever but its essential to create a space for such a bulky thing.
Once the kids have grown up enough or been sold into slavery this area will be filled with guns, drugs, booze, large amplifiers, suitcases full of money.
You know, all the trappings of a footloose and youthful lifestyle.