LOOK IT'S ONE OF THOSE "FACEBOOK" VANS
Yes, indeed this one of those conversions that bounced into every Facebook feed on the planet along with footage of pandas sneezing, cats falling off shelves and people getting hit by cars.
I honestly have no idea what 35 million facebook views and 250,000 shares translates to when it comes to flogging stuff, most likely very little.
But the last van went for £28,000, I'm expecting it to go for more than that but we shall see…
These take a while to build and here, not exactly snapping at the heels of that priceless social media hype, comes the next conversion.
Available to buy, put your family inside and drive into the sunset. Sing Hosannah!
Ebay is a notoriously inconvenient place to flog items like this van.
In my experience the highest bidder is either sabotaging the auction, had a few too many Babychams or just wants to come along, kick the tyres and mutter something about the lack of a toilet. If you're a serious bidder please get in touch and let yourself be known.
I'll be holding viewings of the van ,in Oxford, from the 18th to the 24th of September.
So here's the information.
This will get updated as people ask questions I've missed
THE BORING VAN STUFF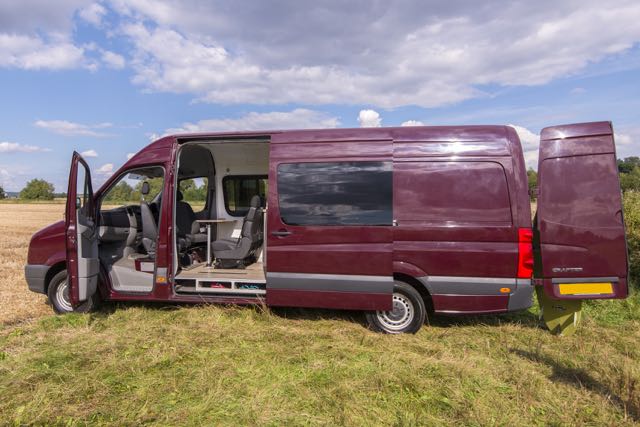 Registration Number is 0Y61 WWD
This conversion is built on a Long Wheel Base Volkswagen Crafter 35CR manufactured in 2011.
It's a 136PS ( around 134 horse power ) diesel engine with 88,000 miles on the clock.
Wheelbase (mm) – 4325
Overall length (mm) – 6945
Overall width / mirrors folded (mm) – 2425 / 1993
Overall Height (mm) laden – 2700-2795
Turning Circle Wall to Wall (m) – 15.6
It's burgundy/aubergine in colour.
If it was a Farrow and Ball shade it would be called "Asphyxia".
Volkswagen call it "Spanish Red". It's rather stately looking.
Bodywork is in excellent condition throughout.
It's currently registered as SORN as this year its been off the road being converted.
The motorhome registration is pending with the DVLA so , as I write this, it's still a commercial vehicle for insurance and tax purposes, this will be changed over to "motor caravan" in the next 2 weeks or so.
It's a right hand drive, has 2 single swivel seats and 3 removable passenger seats.
It sleeps 4 people. And yes, we've often found full grown adults asleep in those bunks after a jolly good night on the razzle.
THE STORY OF THIS VAN
The van is based on a design which was originally drafted by my better half.
We built ,and still drive, the first version of this van which is on a Sprinter 313. It's been tested to destruction for the past 4 years by countless parties, festivals, surf trips, holidays and travels with 2 young kids. So, not only can you come and see a new fancy build, you can come and see what one of these looks like once it been thrashed.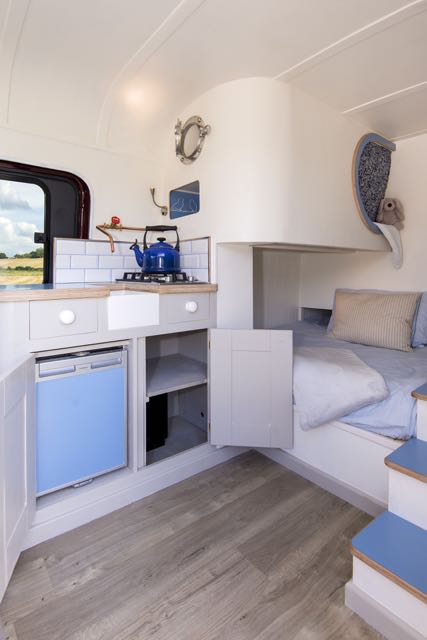 People kept asking to buy it from us so I decided to build another and see if it would actually sell. It did sell to a very nice family who I remain in touch with.
Shortly after the sale, the photos of the van when viral and I have since been inundated with, quite literally, tens of thousands of emails asking to buy a van or commission a build, do interviews and no less than 3 offers of television shows. I hate television.
Probably should have held out on the sale.
Anyway, I built another with a few tweaks and here it is, finished and for sale.
THE DESIGN STUFF
Okay lets get this out there now: The van doesn't have a toilet. Or a shower.
If you happen to have a bumhole or perspire in anyway perhaps this van isn't for you.
We omitted those items for the sake of having somewhere really nice to hang out. In 4 years of using our van we've never been caught short or found the lack of a toilet/shower cubicle a problem. Excellent. Right the other bits….
The outside of the van has no additional styling at all. We've made an effort to keep the van as understated and stealthy as possible. Attracting attention is not really what you want when you have a young family sleeping inside.
BEDS AND STORAGE
The beds are all fixed in place and don't flip up, fold down or slide away. They are just beds of standard sizes and are really comfortable as they use proper mattresses, not foam slabs. This also make it easy to sort out the linen.
The main bed is a standard double 137 x 190 cm (4'6'' x 6'2'' ft)
Top bunk is 70 x 190 cm (2'4'' x 6'2''ft)
Rear bunk is 70 x 175 cm (2'4'' x 5'9'ft)
You sleep with your head toward the front of the van. You slide your legs under the back bunk. This is the design feature which permits the whole layout to work.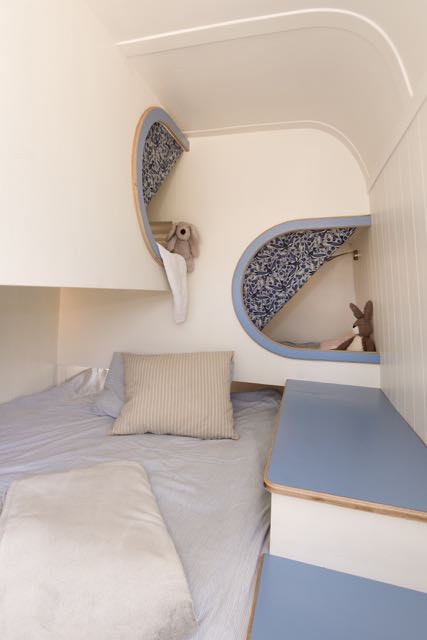 It's comfy, please come and try it.
There are 2 "pod" bunks and although these are really designed for kids, yes adults can sleep in them.
People often ask how the kids get into the top bunk.
Just throw them in.
Throw them.
Seriously it's not that weird. My 3 year old can climb in and out unassisted.
The steps are a nice feature, and are actually really fun for little kids to sit / play on but they also offer loads of storage that goes right down to the wheel arch so there is masses of room to stash stuff.
There is also a load of storage under the bed that is accessible from the rear doors. It is a huge sliding drawer that extends out 1.5 m and is of the following dimensions.
100 wide cm , 190cm long 22cm high with 8cm head room.
KITCHEN STUFF
The kitchen unit has a 12 volt pump that turns on when you open the gate valve and the van has a chassis slung 80l water tank which should keep you going for a while.
It has a 2 ring LPG hob running on a CampingGaz 907 bottle in a sealed, vented metal cabinet. The fridge is a brand new Waeco CRX50 50 litre fridge freezer which are highly efficient bits of kit.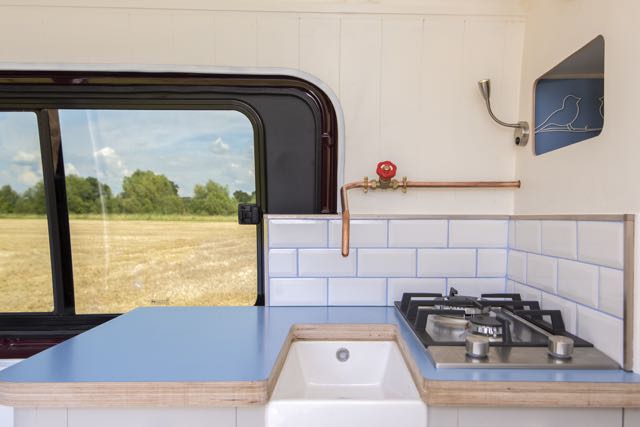 The 12v electrics are a powered by a 110 aH leisure battery and is charged via voltage sensing relay to the starter battery. This means you're not going to get caught with a flat starter batter if you drain the leisure battery. The 240v hook up is concealed beneath the bonnet and powers the CTEK battery charger and also the domestic 13a sockets.
We can happily run totally off the grid for 4 days on single charge, without starting the engine in our van. Bare in mind we're not runing flat screen telly's , Xbox's and satellite receivers. We spend most of the time getting muddy and wet.
SEATING ARRANGMENTS
There are 3 rear seats. They are 2 plus 1 set up which can be removed. You can have 2, 3 or no seats in the back which is useful if you need to cart around a third passenger or remove everything to fill you van with concrete and plywood.
Yes there are 5 seats, but only 4 beds. Lots of people have asked for the additional seat so I installed one to see how it would work. There is a removable table that stows away down the side of the passenger seats.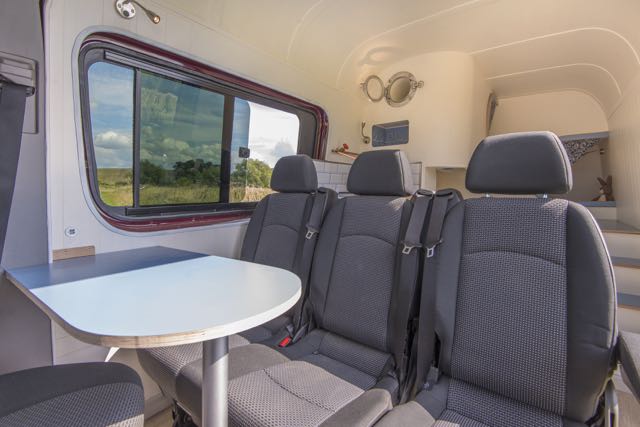 So this is basically, a very big and very fancy "day van" which works really well for extended periods of travel. I speak from personal experience that having a van like this has been completely changed our lives. All the things I could do before having kids , can be done with the kids in tow and everyone looks forward to it.
Travelling, surfing, day tripping, partying and festivaling with the whole family on board is brilliant. Essentially that's what this van is for.
I'm expecting LOTS of questions about this van.
I'm also expecting a great deal of trolling. I'm happy with both.
If you would like to arrange a viewing please get in touch via eBay message.
More images are available should you need them
OVER SEAS BIDDERS
There has been huge interest from buyers overseas in Europe and America. If you're willing to deal with the shipping costs .I'll be happy to speak with you but please don't bid if you haven't figured that it's going to cost you somewhere in the region of $8000 to get this to the East coast of America.
Plus taxes.
If you're interested please Get in touch
Pics by Tim Hall Photography