The Culinatour Van is FOR SALE direct from the owners in Germany
Click here for more information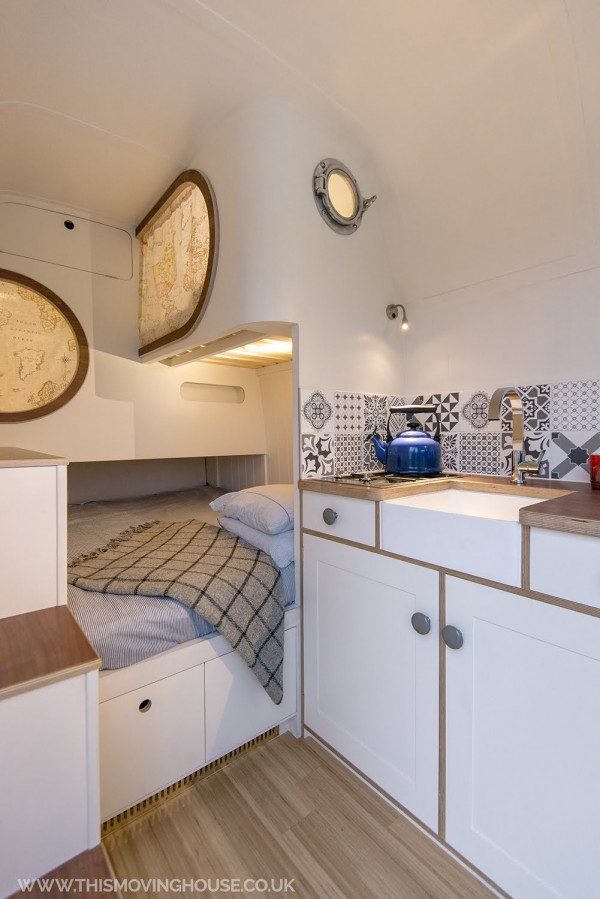 "The Culinatour Van" was our first commission for a left hand drive vehicle.  We were approached by Julia Sprossman and her team at Culinatour.com to develop our layout for a European camper van conversion with an emphasis on practical kitchen space both inside and out.  A 2018 , Long Wheel Base, Super High Roof ,Mercedes Benz Sprinter was selected as the base vehicle.
Rethinking the kitchen "real estate" we spent a lot of time searching for a suitable Mini Belfast sink that would have the right dimensions but not bring with it too many weight issues. After much searching we decided to have our own camper van basins manufactured for the job and redesigned the kitchen layout around our larger, deeper, and lighter custom basin.
The additional worktop extension and slide out spice rack storage, added further working space to a compact kitchen arrangement.
To the rear of the van we developed a large slide out kitchen with matching work surfaces and installed a 4 ring,high pressure LPG hob for out door cooking. The rear door cavities were recruited for storage and galley style shelf  installed for back bar storage.
Adding to the interior living solutions a high end combi boiler , the Truma D6e , was installed to provide hot air and hot water on demand to supply the sink and outdoor shower. The D6e can be powered from the diesel tank and 12v supply,from 204v "shore power" or a combination of both.
For off grid power the van is equipped with a 200w Buettner Elektronik Solar system charging 2 x 110 AGM batteries which deliver 240v via a 1700 watt pure sine wave inverter. Some solid German engineering can be found in this wagon.
The whole project took 6 months to complete and we look forward to converting more European and left hand drive vehicles in the future.
Follow the exploits of Julia and her team at Culinatour as they tour Europe cooking up a storm in this moving house.